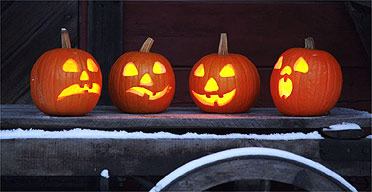 On this Eve of All Hallows,
The Creedal Christian
very helpfully links to an
essay
by the now Bishop of Virginia on why "the so-called 'exposure' of Halloween is nothing more than a skewed, self-serving agenda from various churches that make up only a tiny minority of Christianity, indeed a minority within Protestantism". The essay emphasises why Christians can celebrate Hallowe'en with traditional festivities:
Halloween is the time when Christians proclaim and celebrate the fact that Satan and the occult have no power over us and cannot disrupt our relationship with our Lord and Redeemer, as long as we live faithfully to Christ. We show this by making fun of such pretenders, lampooning them in their face. This is why our costumes and decorations certainly be witches, devils, and ghosts. In the victory of Christ, Christians are privileged to do this and we must not be timid about it.
On this day - amidst pumpkins, witches, wizards and ghouls - we can recall the quotations placed by Lewis at the outset of
The Screwtape Letters
:
"The best way to drive out the devil, if he will not yield to texts of Scripture, is to jeer and flout him, for he cannot bear scorn" - Luther
"The devil ... the prowde spirite ... cannot endure to be mocked" - Thomas More.
As we prepare to rejoice in the glory and light of the communion of saints, and the promise it bears of the forgiveness of sins, the resurrection of the body, and the life everlasting, it is indeed fitting that we mock and scorn that proud spirit and his angels.