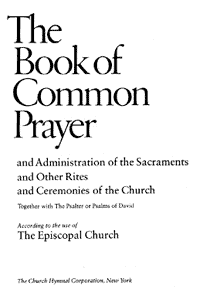 Derek Olsen's article at Episcopal Cafe
is worth reading for a number of reasons. It provides a robust
apologia
for the liturgical church; it warns against the search for transient 'relevance'; and it rightly characterises Anglican liturgy as balancing Western norms with patristic practices.
The article also, however, urges TEC to discover renewal through a focus on the Trinitarian, Christological centre which shapes and is proclaimed by the 1979 BCP. As Olsen says in his
own blog
:
if our chief goal is revitalizing the Episcopal Church as a local political action committee, then my suggestions will be quite unhelpful.
Instead he urges a quite different agenda, which has application to Anglicanism beyond TEC:
If we want to renew and strengthen the Episcopal Church in light of these very real challenges that are facing us, then the one thing that we dare not mess with is our commitment to the contents and spirit of our 1979 Book of Common Prayer.
A lot could be said about this welcome statement. Above all, it urges that theological trends (local or otherwise) which militate against the 1979 BCP's Trinitarian and Christological core should not shape alternative liturgical provisions.
As Olsen goes on to state:
Frankly, I don't care if you're "into" Quaker spirituality and so want to cut out some of the prescribed prayers and have us sit in silence then; I'm "into" Anglican spirituality, and I'd appreciate it if you did what the book says to do. Perhaps I'm a little touchy on this topic, but I've seen too many places where Sunday morning deviations from the book are about the rector inflicting the twists and turns of their own spiritual journey on the congregation. If we want to get serious about being the Episcopal Church then I suggest we would do well to get serious about our core messages and principles and—by canon as well as plain ol' good sense—these are in the book. As a layperson, I see the book as a contract. It may not be exactly what I want, but it's an agreed-upon corpus of embodied theology that we have all given assent to. I promise to use the book, and I expect that the clergy will do the same. This is a benefit that we offer those who come seeking—a place of stability in a culture that desperately needs it.

In other words, 'renew the church - pray the liturgy'. This is not about liturgical correctness. It's not about a fussy, condescending Anglican rejection of informality. It is about recognising that our catholic liturgy shapes and forms us in the fullness of Trinitarian, Christological faith. Or, as Olsen puts it:

As we consider the future of the Episcopal Church, we must do so with a sense of where we have come from, where we wish to go and how to keep our experience of and witness to the Triune God at front and center of our efforts.