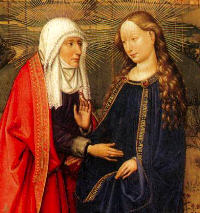 It's
Magnificat
day ... sharing in what Jeremy Taylor described as a "collision of joys", her visitation to St Elizabeth, Our Lady proclaims the praise of the God of Israel in the words of the
Magnificat
.
In his defence of the use of the
Benedictus
,
Magnificat
and
Nunc Dimittis
in the daily offices, Richard Hooker states:
They are the first gratulations wherewith our Lord and Saviour was joyfully received at his entrance into the world by such as in their hearts, arms and very bowels embraced him
(
LEP
V, 40.3).
There is a wonderful earthiness in Hooker's reference to the Blessed Virgin - her "very bowels embraced him". Taylor echoes this when he describes her as "she who was now full of God". It is from this truth, this flesh and blood reality of God Incarnate, that the
Magnificant
emanates.
Already by time of the
Venerable Bede
- and on the very fringes of Europe - he could refer to what was already established as the "excellent and fruitful custom" of saying the
Magnificat
at evening prayer:
Therefore it is an excellent and fruitful custom of the holy Church that we should sing Mary's hymn at the time of evening prayer ... meditating upon the incarnation in this way.
And that, of course, is precisely what the
Magnificat
is: a meditation upon the Incarnation by the human being closest to that event. By the young woman whose "very bowels embraced him". By the girl from Nazareth "who was now full of God". With her we sing the
Magnificat
at Evening Prayer - sharing in her joy at Yahweh's favour and, with Elizabeth and all generations, calling her blessed, the
Theotokos
.