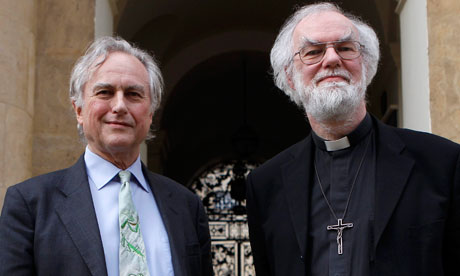 Following on from yesterday's post, part of ++Rowan's
Evening Standard
interview is worth reflecting upon:
We are haunted by Christianity in this country; there's a bit of can't live with it, can't live without it in some people's approaches. Even with Dawkins, the sense that he can't leave it alone is fascinating. It does mean that it's a more complex phenomenon than it looks at first; it's not as if everyone on that side wants to sweep things away and start from day one. I'm interested in how much scope that still gives for mutual understanding.
Perhaps ++Rowan's most important legacy will be his commitment to meaningfully engaging the new atheism. It is as a cultural phenomenon that the new atheism is making headway in shaping public opinion. The rather shaky, wide-eyed scientific fundamentalism of Dawkins
et al
leaves both academic and public opinion rather cold. But its cultural critique of faith - narrow, anti-scientific, responsible for violence and persecution - appears to be putting down roots.
It is here that ++Rowan's generous but meaningful engagement sets a pattern for the Church. Demonstrating - as ++Rowan has sought to do - that the Church's life and proclamation is shaped by an infinitely greater, more gracious and beautiful Reality than that seen by the new atheists, helps us see how the new evangelisation can respond to the "complex phenomenon" of atheism. Or, in ++Rowan's words ending the
Evening Standard
interview:
The Dostoevskian picture of human beings says you have to look at yourself and realise just how much of a mess there is. You have to avoid liberal and conservative lies; you have to bring it all into the light; but the light is benign.