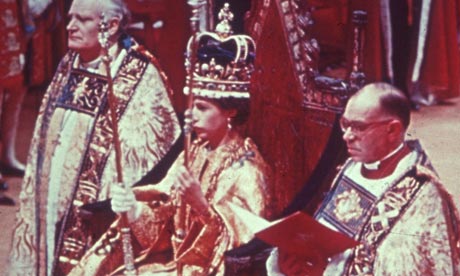 The point of the Church is the assembly of humanity as such in order that it might govern itself by love. Once one has this "church" idea, no other basis for human society can be regarded as fully legitimate. Caesar is in a way irrelevant, only to be appeased, until, after Constantine, he has himself derived the more aspiring aspect of his authority from the authority of the gospel ... Christianity
is
Christendom, as the older history of the coinciding usage of these words suggests, else it is disincarnate and so not really the religion of the Incarnation at all ... Hence the most ancient socio-political of the realm of England are the ecclesiastical parishes ... Even if parishes have now legally lost their civil administrative status, since the legitimacy of the civil realm is still officially dependent upon the anointing of the monarch, England remains, as a political body, a body within the ecclesiastical body ... England as a realm is still in theory gathered together only because of the gathering of humanity as such in love, which is the Church.
From John Milbank's essay "Stale Expressions: The Management Shaped Church" in
The Future of Love: Essays in Political Theology
.