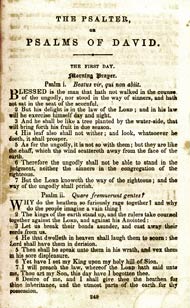 Giles Fraser's reflections
on despair and unhappiness perhaps suggest something of the importance of praying the Psalter in its entirety in the daily office:
The exhortation "Have a great day" has become the ideological camouflage of late capitalism and Made in Chelsea is its purest form. The economy is tanking. People are out of jobs. A loved one has died. A relationship has ended. Don't worry, be happy. Take a pill. Watch the Olympics.
No, the sort of happiness that's more than synthetic soma must hold together a range of conflicting feelings, of which unhappiness is one. And we must not be scared of unhappiness as a feature of a meaningful life. To express this as a contradiction: unhappiness forms part of the recipe for happiness itself.
This week's church readings included the über-miserable Jeremiah, who complained: "Why is my pain unceasing, my wound incurable refusing to be healed?" and refused to "sit in the company of merrymakers". Church, like therapy, is a countercultural space where people are given permission to bring distress.
Athanasius famously said of the Psalter, "in the words of this book all human life is covered, with all its states and thoughts". Praying the Psalms in their entirety in the daily office (whether over the monthly or quarterly cycle), provides a means to bring all of life before the Triune God - including the times of despair, of darkness, of brokeness, of failure. This might point to the cultural significance of praying the Psalms in the daily office in the monastic rather than the cathedral fashion. The monastic style is more likely to gather up the breadth of our experiences - personal, communal, societal - in the Psalter's expressions of "all human life ... with all its states and thoughts".